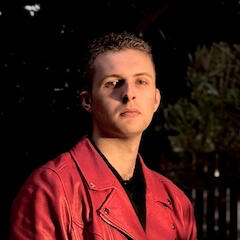 CHANGEMAKER CHAT
Youth Parliament,
the NDIS + More
Disability advocate and youth MP Jaydan Rufus talks to Loughlin for the first episode of Changemaker Chat.
CHANGEMAKER Q&A
Launch Episode
Chats with Tiyana J
Ahead of season 2, Loughlin and Tiyana get together to talk how they met, solutions-focused journalism, and future plans for the show.
NEWS OF CHANGE
Your New Weekly
World News Bulletin
Get the full story on the people creating change and events changing society around Australlia and the world, every Monday at 6 a.m. (GMT+10).
Loughlin Patrick is a writer, digital creator, and executive producer of award-nominated national radio program Minds in Tune.
Based in sun-soaked Brisbane, Loughlin quite suitably wears many hats. With a background in public speaking, documentary production and national radio, Loughlin has more recently turned to freelancing as a web designer and book consultant.

Loughlin also writes for the Humanitarian Changemakers Network covering big stories on their website and Changemaker Q&A podcast. You can catch his News of Change bulletin there every Monday morning.

Loughlin's debut young adult mystery novel, Revenge in Ridgeview, is coming sooner than you think - watch your back.
BLOG
How to Upgrade
Your Editing
Let me take you through the three-step editing process I use as a writer to get the best out of my work and maximise my results.
MINDS IN TUNE
Boler Mani Talks
'Miss Anxiety' + More
Melbourne-based rapper and producer Boler Mani features in the first interview from the Minds in Tune vault.
---
Long Reads
News and detailed analysis.
Minds in Tune
Nationally Broadcast Radio Program on SYN Nation
Minds in Tune is a national radio program with a focus on mental health and music - conceived and produced by yours truly. Episodes featured discussions of current events, deep dives into mental health related topics, and interviews with rising musicians and mental health experts.
Suffer No More: The Secrets and Lies of the NDIS
Nationally acclaimed documentary
"Well put together account on the realities of what it is like dealing with the NDIS." - SEE Foundation, Perth

"As the National Disability Insurance Scheme continues to roll out, people are feeling overwhelmed, unheard and facing road blocks at what can feel like every turn." - Queensland Advocacy Incorporated, Brisbane
News of Change Bulletins
Weekly audio news bulletins
News of Change is your weekly bulletin covering the people creating change and events changing society around Australia and the world. Join Loughlin Patrick for new bulletins every Monday morning at 6 a.m. in audio form on your preferred podcasting platform. Listen to the first of these bulletins at the link below.
Queensland's Youth Parliament Returns to Get Young People's Policies on the Agenda
Representatives from around the state met at Parliament House last month to launch 2021's YMCA Queensland Youth Parliament — after a year apart.

QYP coordinator Daniel Patava said the "strange and uncomfortable environment of Covid" caused uncertainty for the program before a successful transition to online communication.
"In many ways it translated quite well, because a lot of the work youth members do is within their communities."

This community consultation guides QYP's 93 youth MPs as they draft bills that are forwarded to Parliament for consideration if they pass debate.

Several youth bills have become law, including 2019's landmark 'revenge porn' bill, which criminalised the non-consensual sharing of explicit images in Queensland.

Other bills made law in QYP's 26-year history include the legalisation of ride-share apps such as Uber and introduction of the 100-hour learner logbook.

But when it comes to youth participation at the ballot box, a worrying trend has emerged over the pandemic.

The most recent data published by the Australian Electoral Commission shows a 4.3 percentage point fall in youth voter participation nationally since a June 2019 high of 88.9%.

Patava admits barriers still exist to youth political participation, including a lack of support for rural Queenslanders, but changing attitudes have led to a "newfound appreciation for the value of youth voices".

Tiyana Jovanovic, founder of youth action group Humanitarian Changemakers Network, disagrees, saying youth issues can "conflict with the agenda of [politicians'] corporate donors".

"The majority of politicians — particularly those from the two major political parties — don't generally listen to or act on issues affecting young people."

But, Covid permitting, the youth MPs will be back at Parliament House in September to debate their bills and get more youth issues on the political agenda.
Disability Advocate Jaydan Rufus Joins the Youth MPs Leading Queensland in a New Direction
When Youth MP Jaydan Rufus isn't consulting on bills with his community, he volunteers as a way-finder at the Queensland Children's hospital.

"I'm the first point of call when you come in and you need to know about hospital facilities, where your outpatient appointment is; we've got those directions and most of the time, I'm right!"

Disability advocate Jaydan Rufus is one of 93 MPs in YMCA's Queensland Youth Parliament.

Living with cerebral palsy, he's one of four youth MPs with disabilities in the Queensland Youth Parliament, advocating for the needs of underrepresented Queenslanders.

That's twice the number of representatives with disabilities of federal parliament; Senator Jordon Steele-John was the only member with a disability before MP Andrew Laming's April ADHD diagnosis.

When Rufus is unsure of something, he often consults committee chair Madi Kenna, who is autistic.

They're currently drafting a bill to tackle "period poverty" by providing free menstrual products in government buildings and schools.

In the meantime, Rufus donated to charity Share the Dignity to tackle the issue, going on a "Costco run" to buy tampons and "a massive box of pads" to give away.

He also brought a disability-informed perspective to the bill, adding a provision to let people with sensory issues get Deppo-Provera treatment free of charge.

On his own, Rufus is working on a policy proposal which would allow NDIS participants to continue getting help from their own support workers while in hospital.

He says he experienced the need firsthand during a hospital stay, as not all doctors and nurses have the training to "understand the risk" when handling specialist disability equipment.

Rufus acknowledges not all support providers are perfect; he reported his last provider to the NDIS Quality and Safeguards Commission for multiple instances of fraud.

But for now, he's still doing his bit to guide Queensland politics in a more accessible direction.
Secret Sandwich Calories Could Be Derailing Your Diet, Say Leading Nutritionists
Supermarket sandwiches look like a healthy choice, but the Australian Nutrition Foundation has found some are loaded with fats and sodium.

"Many shops are giving you a dinner's worth of calories," said chief nutritionist Jane Smith. Her team put sandwiches from 30 shops to the test.

Tuna sandwiches "drowning" in mayonnaise are big offenders, Smith said, being "the equivalent of three McDonald's Quarter Pounders, fat wise".

According to the study, ham with mustard is also a no-go, with just one making up nearly your entire recommended daily sodium limit.

Other high-sodium sandwiches to avoid are turkey clubs at 77% and BLTs at 65% of the recommended daily limit.

BLTs are also packed with saturated fats, trumped only by vegetarian sandwiches at 14 grams of your 20g recommended daily limit.

These sandwiches also make it into the top three in total fats, with the Quarter Pounder-esque tuna salad sandwich taking top place.

But the best sandwiches for health-conscious consumers are turkey or roast beef with mustard, with turkey being lowest in both kinds of fats.
Melbourne University Back to Covid-Normal As Restrictions Ease
RMIT students will return to campus from July according to an announcement from the Deputy Vice-Chancellor.

All classes "should return to face-to-face" said Professor Sherman Young yesterday.

However, some "well designed online experience[s]" will remain.

"Learning and teaching will be delivered predominantly on campus in Semester 2, 2021, but will incorporate best practices learnt from the COVID-19 interruption through digital delivery."

RMIT plans to provide more information on what a Covid-normal Semester 2 will look like when enrolments open in May.
Digital Delivery a Pandemic Positive for Flexible Learning
Not all students will race back to campus in July, including social work student Anya Tunjung.

For Tunjung, 2020's shift to online learning was better for her finances and "much better for my job".

"I'm still going to try and opt for the external option if I can," Tunjung said, "because it's a lot cheaper for me to study from home."

But making friends from home remains a challenge for the second-year student, who says she will be reaching out to more people online in coming months.
A man was killed and two firemen hospitalised after a $90k car crash this morning on Rollins Avenue — for which fault is yet to be determined.

The Insurance Institute for Highway Safety road safety study has revealed large cars have up to 50% better insurance records..

A child dies every five days from eating a dangerous food that could be in your home, the Victorian Medical Association has warned parents.

Four grieving children will attend a second funeral for their mother after a bungle by the state medical examiner last week.

Women with graduate degrees are more likely to have bad marriages and get divorced, an RMIT study has revealed.
The vast majority of prisoners say they could easily get a gun when they get out, a chilling Department of Justice survey warns.

A record-breaking 300-year sentence has been handed down in the case of convicted murderer Thomas C. Ahl today.

Rising noise levels could send city-dwellers deaf by 2020, heard delegates of 51 nations at this week's ISO conference in Switzerland.

A bystander will not be charged for the "excusable homicide" of a 19-year-old shoplifting suspect, who died when placed in a headlock.

A controversial book has been banned from junior high school classes after parents branded it "racist," but it remains in libraries.
Quote Exercises
The opposition's "disarray" has Prime Minister Robert Lang confident of a majority at next month's election, Lang told reporters in Melbourne.

A $16 million prison remand centre is planned for Melbourne, Community Services Minister Robert Lang announced at Parliament House today.

Terence Philby blasted the "dull orthodox paintings" of Hendrix Prize winning artists at the launch of his Carlton exhibition last night.

Convicted murderer John Beaumont maintained his innocence at his sentencing today, saying he's been "framed by the cops".
Photo Assignment
Axel (21) tells students at a Brisbane high school's refugee alumni dinner about the killing of his father and brother that forced him to flee Burundi. Photograph: Loughlin Patrick
Dementia Aus. Chairman Calls for a 'Fundamental Shift' in Treatment
Graeme Samuel became visibly upset during his National Press Club address today, recalling his late mother's words when she was admitted to aged care.

"I know what you are doing to me — there'll be a death in the family, and it will be on your hands," Samuel's mother had said.

The Dementia Australia chair spoke about his family's "frustration, torment and unbearable distress" as part of a plea for major dementia care reform.

"This requires a fundamental shift from a compliance, minimum standards approach, to one which focuses on improving quality," Samuel said.

He also highlighted the "disgraceful treatment" of dementia patients exposed by the Royal Commission into Aged Care Quality and Safety, which published its final report in March.

Liberal Senator Concetta Fierravanti-Wells agreed with the report's claim that the government hadn't funded aged care adequately, but said dementia patients should take "personal responsibility" for their care.

"Just because you get old does not mean that suddenly the Australian taxpayer must pay for those personal expenses," she told the Senate in March.

The Senate voted down a motion acknowledging the "abysmal" standard of dementia care outlined in the report without debate that day.

But another Royal Commission into Violence, Abuse, Neglect and Exploitation of People with Disabilities remains ongoing.

Dementia Australia made a submission to the Commission last August, with CEO Maree McCabe writing support is critical for those facing "the life-altering impact of a dementia diagnosis."

2021 could see an increase in this crucial support for dementia patients after a horror year in aged care homes amid the COVID-19 crisis.

Health Minister Greg Hunt announced a $270k study aimed at improving training for interpreters assisting with dementia assessments in "culturally and linguistically diverse settings" last month.

The study could improve dementia diagnosis rates — currently as low as 1 in 3 — and compliment "dementia support pathways" proposed by Samuel in his address.

Samuel's proposed pathways would be "a single access point to services through a centralised, national telephone and online service" and enable "crucial" early intervention.

"Remember this is not only about them — it is also about what the future holds for you and me."