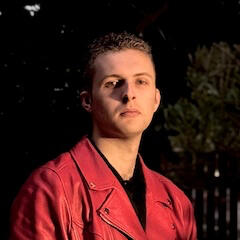 CHANGEMAKER Q&A
Launch Episode
Chats with Tiyana J
Ahead of season 2, Loughlin and Tiyana get together to talk how they met, solutions-focused journalism, and future plans for the show.
NEWS OF CHANGE
Your New Weekly
World News Bulletin
Get the full story on the people creating change and events changing society around Australlia and the world, every Monday at 6 a.m. (GMT+10).
Loughlin Patrick is a writer, digital creator, and executive producer of award-nominated national radio program Minds in Tune.
Based in sun-soaked Brisbane, Loughlin quite suitably wears many hats. With a background in public speaking, documentary production and national radio, Loughlin has more recently turned to freelancing as a web designer and book consultant.

Loughlin also works as Head of Content at the Humanitarian Changemakers Network covering big stories on their website and Changemaker Q&A podcast. You can catch his News of Change bulletin there every Monday morning.

Loughlin's debut young adult mystery novel, Revenge in Ridgeview, is coming sooner than you think - watch your back.
YOUTUBE CHANNEL
The Games
Have Stopped
WTF is happening at Wall Street?! My latest YouTube video unpacks the GameStop stock market chaos ...with the help of an unsavoury character.
BLOG
How to Upgrade
Your Editing
Let me take you through the three-step editing process I use as a writer to get the best out of my work and maximise my results.
MINDS IN TUNE
Boler Mani Talks
'Miss Anxiety' + More
Melbourne-based rapper and producer Boler Mani features in the first interview from the Minds in Tune vault.
---
Long Reads
News and detailed analysis.
Minds in Tune
Nationally Broadcast Radio Program on SYN Nation
Minds in Tune is a national radio program with a focus on mental health and music - conceived and produced by yours truly. Episodes featured discussions of current events, deep dives into mental health related topics, and interviews with rising musicians and mental health experts.
Suffer No More: The Secrets and Lies of the NDIS
Nationally acclaimed documentary
"Well put together account on the realities of what it is like dealing with the NDIS." - SEE Foundation, Perth

"As the National Disability Insurance Scheme continues to roll out, people are feeling overwhelmed, unheard and facing road blocks at what can feel like every turn." - Queensland Advocacy Incorporated, Brisbane
News of Change Bulletins
Weekly audio news bulletins
News of Change is your weekly bulletin covering the people creating change and events changing society around Australia and the world. Join Loughlin Patrick for new bulletins every Monday morning at 6 a.m. in audio form on your preferred podcasting platform. Listen to the first of these bulletins at the link below.
YOUTUBE CHANNEL
What is a Royal
Commission?
What powers do Royal Commissions have, and what do they investigate? Find out what you need to know about Royal Commissions and their impacts.