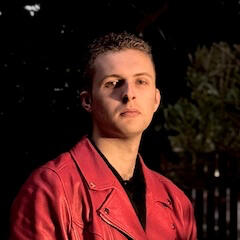 MINDS IN TUNE
Boler Mani Talks
'Miss Anxiety' + More
Melbourne-based rapper and producer Boler Mani features in the first interview from the Minds in Tune vault.
HUMANITARIAN CHANGEMAKERS NETWORK
Complete Chaos
On Wall Street
Get the complete breakdown of how some extremely-online nerds sent the NYSE into chaos last week, and what could be in store next.
Loughlin Patrick is a writer, digital creator, and executive producer of award-nominated national radio program Minds in Tune.
Based in sun-soaked Brisbane, Loughlin quite suitably wears many hats. With a background in public speaking, documentary production and community radio, Loughlin has more recently turned to freelancing as a web designer, book consultant and tutor.

As a struggling student, Loughlin is often snowed under with communications and business coursework; when he isn't, you can find him creating YouTube videos of questionable quality. Loughlin also writes for the solutions-focused Humanitarian Changemakers Network, covering human rights and disability issues.

Loughlin's debut young adult mystery novel, Revenge in Ridgeview, is coming sooner than you think - watch your back.
YOUTUBE CHANNEL
Intimate Christmas
Party + Resolutions
You're invited to my last (and first, TBH) party of the year! I give you a festive house tour, plus talk 2021 resolutions and assess my 2020 goals.
BLOG
How to Upgrade
Your Editing
Let me take you through the three-step editing process I use as a writer to get the best out of my work and maximise my results.
YOUTUBE CHANNEL
What is a Royal
Commission?
What powers do Royal Commissions have, and what do they investigate? Find out what you need to know about Royal Commissions and their impacts.